Lenovo ThinkPad laptops, formerly IBM ThinkPad, are very well built machines. On these units, the DC Jack is a separate component from the motherboard.
On most laptops, the DC power jack is soldered to the motherboard. Replacing it requires de-soldering the old part, installing the new part, and soldering it.
On ThinkPad machines, the jack is usually on a cable. The parts usually last much longer. This is a much better design, and they have been building them like this on and off for a decade now. Still, everything breaks at some point, including the power jacks on ThinkPad laptops.
Here is a picture of a Lenovo ThinkPad DC Power Jack the we replaced today.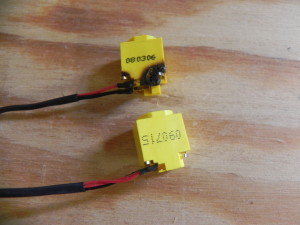 If your jack is going bad, the cord may not stay plugged in, the laptop may run on battery only, you may need to pull your cord in a certain direction to get it to charge, or there may be smoke coming from the back of your machine. If you are experiencing any of these symptoms be sure to stop using the machine and bring it in for a power jack repair.