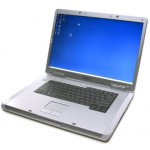 The Dell Inspiron 9300, 9400 and E1705 models keep us very busy. The 17" Widescreens seem to go out on this model a lot due to failures with the electronics. The solution is to replace the LCD. Usually the colors are inverted, or there is a white bad in the screen, or you may experience lines in the screen.
We typically stock screens for these. Decent used screens are usually in stock and for a little more you can get a brand new screen for it. Most used screens are around $119 installed. Many of the new screens are around $199 installed (as of August 2010). There are a variety of screens available from WXGA, WSXGA, WUXGA, matter & glossy.
If you have one of these models with a problem screen please feel free to contact us for a price quite. Please include the service tag # from the bottom of the laptop and send us an email or just get the unit here for repair.