Raleigh, NC Hard Drive Data Recovery Service

Absolute Computers offers data recovery services to Raleigh, Cary, Apex, surrounding areas and nationwide. We recover data from Linux, Unix, Microsoft (Windows) and Macintosh operating systems. Our initial evaluation is completely free. We will check out your drive and give you a quote on recovery options. Even if someone else has told you your data is gone, there is still a chance we can recover the data using the latest software recovery tools. If you do not have anything to put your data on to, we do offer flash drives and external hard drives. Not all drives are recoverable, but we will be happy to help if we can.

Flash drives: If you have a flash drive (USB drive) that has stopped reading due to a broken connector, we can likely pull the data. We charge $60 to $150 dependent on the amount of effort required for the recovery.
We also offer data extraction from the following working media: ZIP, Jaz, floppy 3.5″ 1.44MB, floppy 3.5″ 2.88MB, floppy 5.25″ 1.2MB, SuperDisk 120MB (see tier 1 below).
Hard drive data recoveries are divided into 4 tiers based on their level of difficulty.
Tier 1 includes: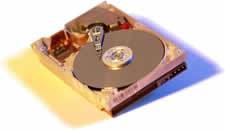 Copying data from your working hard drive to other media such as a flash drive, external hard drive or DVD.
Copying data from your old computer to a new computer. We can also import favorites, documents and other data, assuming you have the corresponding application installed.
Copying data from a drive that has bad sectors but is still easily readable.
Basic data copying from failing hard drives in computers already getting other repairs completed.
Data extraction from the following (good) media: ZIP, Jaz, floppy 3.5″ 1.44MB, floppy 3.5″ 2.88MB, floppy 5.25″ 1.2MB, SuperDisk 120MB.
$60 – flat fee.
For specials requests, data importing, etc., the fee is $60/hr.
Tier 2 includes: 
Recovering data from hard drives that no longer load the operating system.
Recovering data from hard drives that cause your computer to lock up or freeze up.
Recovering data from hard drives that are not recognized by Windows and are able to be recovered using our software utilities.
Recovering data from hard drives with S.M.A.R.T. errors.
Recovery of data from USB flash drives with the connector broken.
$149 flat-rate fee.
Tier 3 includes:
Recovering data from formatted drives or recovering deleted data.
Rebuilding partition tables or master file tables.
Repairing drives with electrical failures or drives that do not spin (additional time may be required if additional parts are needed).
Data recovery from RAID arrays.
$500 flat-rate fee plus cost of parts if needed.
Tier 4 includes:
Drives that require outsourced recovery in a clean room. We do not know if your drive will require this or not until we look at it. In the event your drive requires extensive recovery, we are certified partners with Ontrack, the largest data recovery specialists in the world. Drives being outsourced do require an initial nonrefundable evaluation fee of $150 to see if and precisely how much data is available. File lists are available prior to final recovery. Once  recovery has been approved – all data recovery fees are  non-refundable. The turn around time for data recovery is typically  8 – 12 business days.  The price  for data recovery typically ranges from  $1500 for smaller, simpler drives to $3500 for larger drives that have been configured in a RAID array.  This type of data recovery is also a used for SIMM cards or USB drives that have data that can not be recovered using Tier 2 methods.
"These are  my priceless family photos but I can not afford that much for Tier 4" is a refrain we hear from time to time.  We do have a special offer from OnTrack that reduces the fee by nearly half.  The trade off for this reduced fee is that the data recovery is given a low priority in the clean room.  Typically you can expect the recovery time to be two months.  This is not a good solution for businesses that need their data quickly but can be a major cost savings to recover those valuable family photos.
We do many data recovery jobs for not just folks in in Apex, Cary, Clayton, Durham, Fuquay-Varina, Garner, Holly Springs, Knightdale, North Raleigh, Wake Forest, Wendell and Zebulon.        We also have many customers coming from  Angier, Chapel Hill, Carrboro,  Fayetteville, Fort Bragg,  Sanford,Spring Lake and Rocky Mount.  Finally we see hard drives as well as laptops sent to us for data recovery from across North Carolina and eastern portion of the US.