This week we had an Apple MacBook Air come in for repair. The unit was not booting. The hard drive ended up being defective.
While we were able to recover the data we were left with the task of obtaining a hard drive for this machine.
The 2009 MacBook Air uses a PATA ZIF hard drive. Basically, a ribbon cable connects to the hard drive, rather than the hard drive plugging in (or inserting) in to something. ZIF is the acronym for Zero Insertion Force.
Here is a stock PATA ZIF: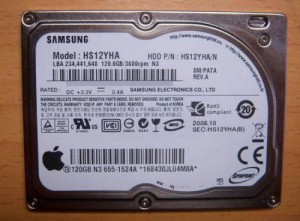 These older PATA ZIF drives have very low RPMS, often 4,200RPM. A great option is a SSD (solid state drive). They're a bit hard to find, but check this out, we were able to source one. Actually, we were able to get a 64GB drive, which was more than adequate for this MacBook Air's usage. Below is an image of a 32GB.