Today I went online looking for a Chromebook. It was for an elementary student. Having kids myself, the first thing that came to mind was a Chromebook. They're cheap, quick, have no moving parts or mechanical hard drivers to fail, fairly virus resistant, the apps are free, and fairly rugged. In fact, there are rugged-specific models out for $199. But the student needed to use "Blackboard", an online classroom software, and Blackboard requires you to have a Windows or an Apple computer, at least as of 2017. This is because Chromebooks run an operating system created by Google called Chrome OS. So, back to the drawing board.
My first thought was to put together an older but decent dual core ThinkPad. I had a few that I would part with for under $40, and heck, the power cord is worth $50. But then again these units are already half a decade old and close to their death, or "end of life" as we call it in the computer world. Actually, they're well past their EOL.
Then it was brought to my attention that you can get a brand new Windows 10 laptop for under $200. Wow.
Chromebook Alternatives: Cheap New Windows 10 Laptops
I went to Amazon to take a look at the units available. There are a ton of machines with 11″ screens and 32GB of space. I can't imagine using a computer with such a small amount of space so I began my adventure filtering the Amazon 1,000+ search results.
The machine had to have 64GB of space or more, preferably on a solid state drive. It had to have reviews, have 4GB RAM, be in stock, available via Amazon Prime, and have over 4 stars. It needed Windows 10. I left screen size as optional. 15.6″ models were going to be too big and bulky for a kid, and it turns out that 14″ models are mostly business units starting at $350 and going up, but, to be a cheap laptop Chromebook alternative I wanted to stay under $200 if at all possible, so the screen would be in the 11 to 12″ range. While this was possible with a 32GB storage drive, for 10 bucks more I found a few great options.
The first two are sold by sellers on Amazon, and the third is sold BY Amazon.
#1. 2016 Lenovo N22 11.6-inch Laptop – $209

This 2lb machine has an Intel Dual-Core Celeron N3050 Processor 2.16GHz, 4GB RAM, 64GB SSD, Rotatable Webcam, a water-resistant keyboard, Windows 10 Pro, and a 10 hour battery life.
Basically, this unit will be great for anyone looking for a cheap Chromebook alternative, and it is $209. The title of the listing is a bit misleading, I mean, "high performance laptops" start at $3,000, not 200 bucks, but it is what I would consider this machine the bare minimum. (on Amazon's site it is listed as a high performance laptop).
Buy the Lenovo N22 on Amazon here.
[clear]
#2. 2017 Lenovo 110s – $159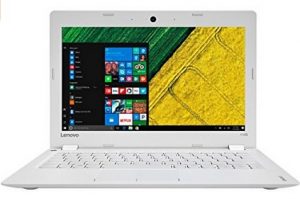 This 2lb machine has only 2GB of RAM and a 32GB drive to store things on. Even though it is listed as "high performance", these are the absolute bare minimum specs you need to run Windows 10. If you install any applications on it or do much more than surf the web, you are going to have a bad day pretty quickly. The processor is a N3060, a slow CPU geared towards web users. The unit has 3 stars, and people either love it or hate it. It seems that quite a few shipped out with defects, so quality control is apparently an issue. But, at $159, what do you expect?

Pro: It's $159.
Con: It's $159.
Buy the Lenovo 110s on Amazon for $159 here.
[clear]
#3.
Acer Aspire ES 15, 15.6″ HD – $299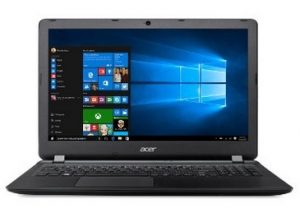 This unit is sold by Amazon, meaning it will almost definitely be in stock, at least for the first half of 2017. It has a 1TB hard drive – lots of space, less speed than a solid state, but, this unit is going to be significantly faster than the above two machines as it has a Core i3 processor. This one has a large 15.6″ screen and 4GB RAM. It does weigh in at a little over 5lbs. This is probably not a great machine for kids, but it is a cheap laptop that will handle every day needs and office applications as well.