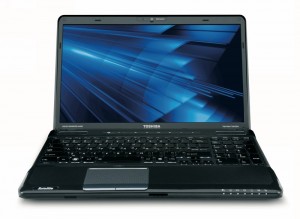 This week we had a Toshiba Satellite A665 come in for a screen repair. The laptop's 15.6″ LCD was cracked after it fell of of a desk.
The Satellite A655 has a powerful i7 CPU and a Nvidia GeForce 310M GPU. The user had also recently upgraded to windows 10. This is a laptop keeping around a bit longer.
An LCD for a model like this generally takes 2-3 biz days to get in stock. Sometimes we even have the part in stock. Parts + labor on something like this is usually $179 or so, although, prices vary quite a bit.
For more information on screen replacements visit our laptop LCD repair page.