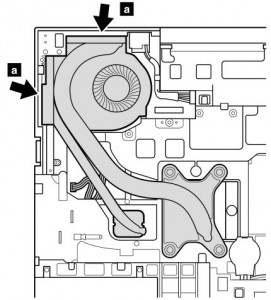 The "s" designates "slimline" on ThinkPad units. Cramming this much horsepower into a slim unit creates one issue- getting the heat out of a machine.
Last week yet another ThinkPad T410s laptop came through the door. This one was in for its annual fan replacement.
The fan "worked" and was not loud or throwing up any fan errors. Upon visual inspection, the fan spun just fine. The problem? The laptop ran hot.
This user was also using "TPFanControl" to keep the fan spinning at all times in an effort to keep the unit cool.
The machine ran ok at the desktop but when placed under a load, such as "flying" in Minecraft, the machine would reach 95C and run extremely hot. The user said it felt like a hairdryer! Of course, when a ThinkPad exceeds 99 Celsius, zap, the power shuts off.
Installing a new, genuine ThinkPad fan into the T410s allows it to run like new again- for a while. If you need this service please feel free to visit our laptop fan replacement page.