Last week we had a ThinkPad T420 come in for a fan replacement.
The T series is one of our favorite laptops and we have sold them since the introduction of the T20. Since the T60 units were released, one of the first parts of the unit that usually wears out is the fan. In fact, other than the battery and fan the T is a very reliable unit.
The Lenovo ThinkPad T420 fan comes in a variety of flavors and there are different fans available depending on which model you have. Some units have integrated (Intel) graphics and others have a larger heatsink for Discrete (Nvidia) graphics.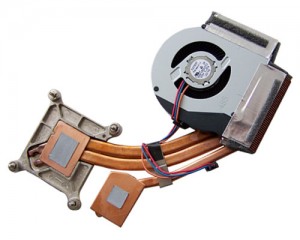 Replacing the fan on a ThinkPad is not a terrible job and generally takes an hour. Most people are looking at parts + 1 – 1.5hrs labor to swap this out. The fan does a relatively good job at keeping an i5 CPU cool enough to perform well, even under moderate load.
Below is a diagram of a fan being removed from a system board, pic thanks to Lenovo.