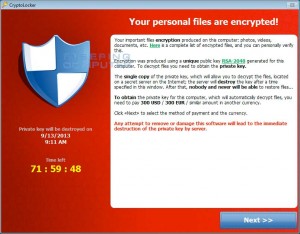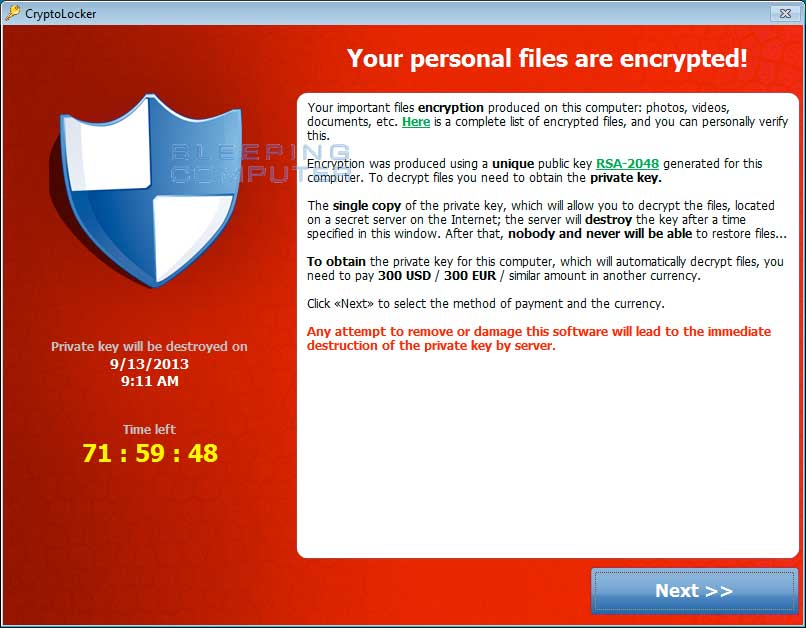 If you live around the Cary or Raleigh area and have been infected by the CryptoLocker Virus, this page is for you.
We remove this virus. If you want to get your computer back to normal again call us or bring it in. You can also visit our virus removal page.
Getting your data back is another story. Read on for details.
What Is CryptoLocker?
This virus is actually a "trojan". A trojan gets onto your computer and does damage. CryptoLocker encrypts data on your machine. This makes your important documents and images unusable. The trojan encrpyts .DOC, .JPG, .PPT and over 50 other file extensions. CryptoLocker holds your files ransom and is also referred to as RansomWare.
When files are encrypted, they are basically locked. There is no easy way to get them back. But there are options.
Can I get my stuff back?!
Options:
Pay the attackers. They usually want $300 – $500.  We wish that nobody would pay them. If nobody paid them, they would quit making trojans like this. The reality is though that the hackers are making tens of millons of dollars off of this. Or more.
In some cases we can recover data from the machine. When CryptoVirus attacks it copies your files to encrypted files and deletes the original. If you were JUST attacked, sometimes we can recover the deleted files. The time involved doing this usually runs your bill up as much as paying the attackers though. If you want to attempt this yourself download Malwarebytes free edition and ShadowExplorer and/or  Recuva file recovery.
Moving forward
We don't bother repairing this nasty infection. When we get this virus in, we erase the entire hard drive. This is also a good time to consider a new solid state drive. Once the drive is erased we do a clean install of the operating system and install antivirus tools which will hopefully keep you safe. You can opt for free Microsoft protection or better paid antivirus such as Bitlocker or ESET NOD32.
If you need these services contact us today.