2016's laptop sales are supposed to be stronger than they have been in 4 or 5 years.
Here's a chart from Staista showing the current trend.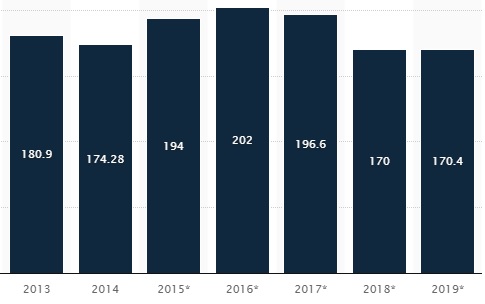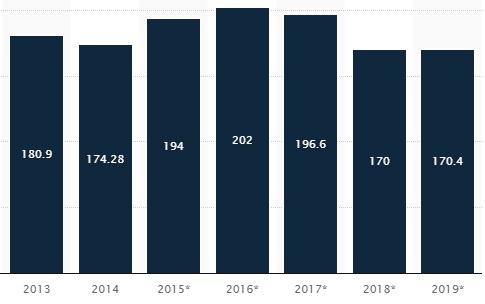 In 2002 when we shifted our focus to exclusively laptop repair there was nobody else in North Carolina who wanted to touch a laptop. That was great for us. Fast forward to 2016 and laptops have become easier to work on and several people offer laptop repair services, which is fine, we've been long established as the leader in this niche.
Why will laptop sales remain strong?
In 2002 we were worried that people would quit repairing their laptops. While the thought still crosses our mind, here's the deal: Most of the laptops we repair are 2 – 5 years old. They are out of warranty but still work keeping around.
Of course, the $249 Acer from Walmart with 2GB of RAM can go into the trash when the motherboard cooks. But, we get in a wide variety of ThinkPad laptops in for repair along with Apple MacBook Pros. Nobody is going to throw away a $2,500 Macbook simply because it needs a $300 LCD replacement, and getting a top of the line ThinkPad still costs well over $1,000.
Hard drive upgrades, screen replacements, data recovery, lost passwords, keyboard replacements and virus removals are not going away anytime soon.
Laptop sales will also remain strong as laptops are just very popular. A tablet won't cut it for many people. Maybe one day in the future people will use tablets with synced external keyboards more than they do not, but, we fix tablets, too. 🙂
This all said, however, the biggest reason people keep buying laptops is, they're powerful. You can't sit down at a tablet and type, save docs, render videos, etc. This isn't changing anytime soon, either.
2016 and beyond
With 2016 being busier than ever for OEMs and manufacturers we predict that from 2017 – 2021 we'll be even busier than we are now.
As for 2022, well, we'll worry about that when it gets here.
The best part about being a small business is the ability to be agile.